Tank Bottom Control Valve, Flush Bottom Discharge Valve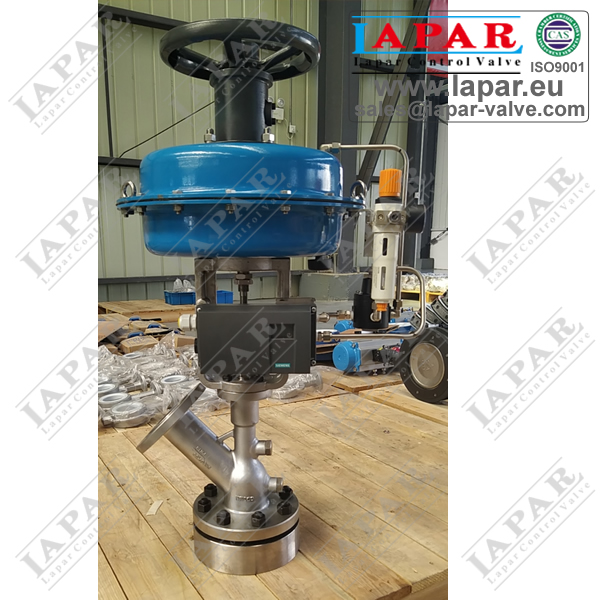 Tank Bottom Control Valve, Flush Bottom Discharge Valve
Tank Bottom Control Valve is a high performance flush bottom discharge valve suitable for tank and vessel draining. Tank Bottom Control Valve is oblique, usually at 135 degrees. The inner parts have two kinds of structure - upward and downward expansion. It is mainly suitable for the severe conditions where the medium is granular, the erosion resistance is large and the pressure difference is large. The wet parts can be hardened to further improve the erosion resistance. The valve chamber and stem backwash interface can be configured to facilitate cleaning. The actuator can adopt thin film pneumatic and electronic electric actuators. When it leaves the factory, the zero-point range has been debugged and the power source and signal source can be used by the user.
Main features:
1. Specially designed for high erosion and differential pressure conditions.
2. Excellent regulation performance and accurate flow coefficient.
3. Configurable spool and stem backwash interface.
4. It has simple structure, good stability and low operation and maintenance cost.
Parameter
Actuator
Pneumatic Diaphragm Actuator, Piston, Electric optional
Control
DCS with Valve Positioner
DN
20~200mm (3/4"~8")
Pressure
PN1.6~6.3Mpa, ANI150~600Lbs, JIS10~40K
Temperature
-196~566°C
Flow characteristics
Quick Open
Rangeability (R)
100:1
Leakage class
Metal Sealing: Class IV & V grade
Soft Sealing: Class VI grade
Connection
Flange
Structure
Standard Type
Body & Cap Material
WCB, WCC, WC6, CF8, CF8M, CF3M
Stem Material
304, 316, 316L 17~4PH
Spool Material
304, 316, 316L, 17~4H, Surfacing Stellite
Packing Material
PTFE, RTFE, Flexible graphite
Medium
Gas, Liquid, Steam and etc
Accessories
Positioner, Air Set (AFR), E/P Converter, Safty Valve, Limit Switch, Solenoid Valve
Remark
Commissioning has been completed in the factory
Outline Drawing