ISO 5210 Flange - Multi-turn actuator to valve attachment (DIN 3338)
This Standard specifies the requirements for the attachment of multi-turn actuators to valves. Throughout this Standard, "actuator" may be understood as "actuator and/or gearbox".
This standard specifies:
• flange dimensions necessary for the attachment interface of actuators to general purpose industrial valves; valves or to intermediate supports;
• driving component dimensions of actuators which are necessary to attach them to the driven components;
• reference values for torque and thrust for flanges having the dimensions specified in this Standard.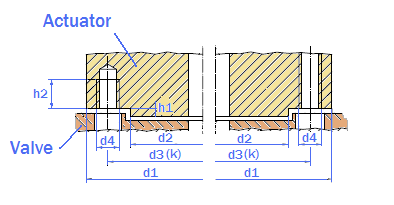 Name
d1
d2
d3
h1 max
Number
bolts
d4 Metric
F07
90
55
70
3
4
M8
F10
125
70
102
3
4
M10
F12
150
85
125
3
4
M12
F14
175
100
140
4
4
M16
F16
210
130
165
5
4
M20
F25
300
200
254
5
8
M16
F30
350
230
298
5
8
M20
F35
415
260
356
5
8
M30
F40
475
300
406
8
8
M36